Updated 12-14-2020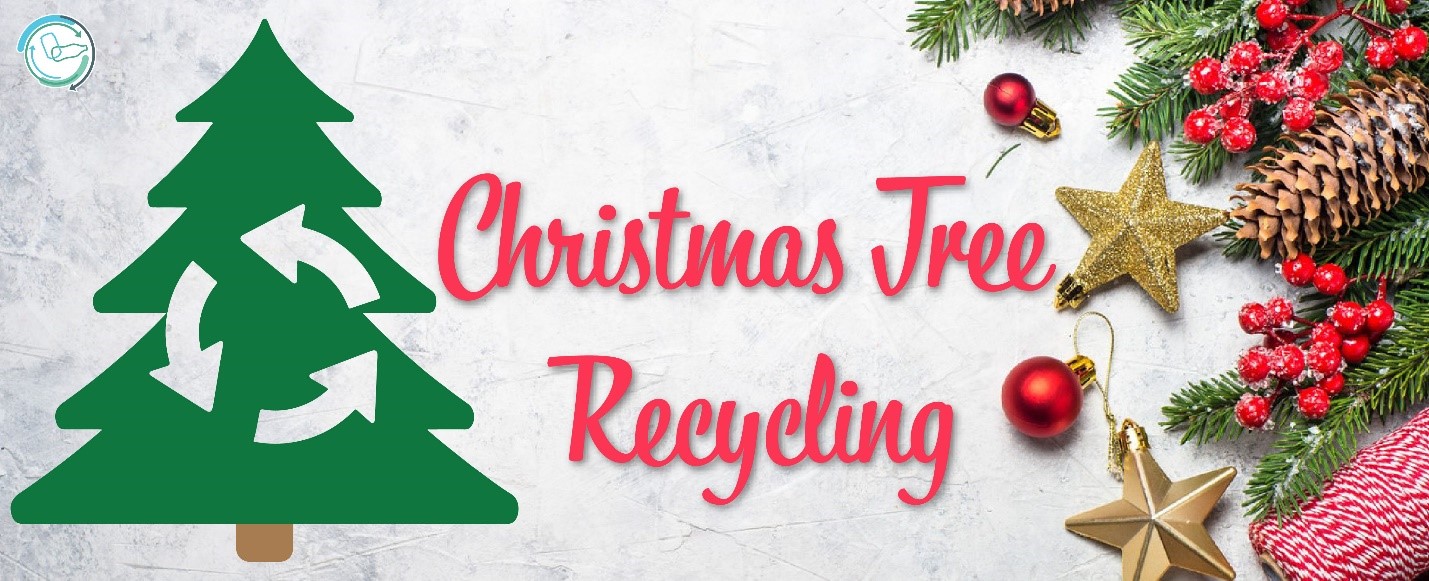 This Christmas, you decided to get a real, live Christmas Tree. You decorated your tree with lights and ornaments, and marveled at its beauty. You gathered around your tree to exchange gifts with family and friends. Maybe you even sang, "O Christmas Tree, O Christmas Tree, how lovely are thy branches."
After all the fun and festivities, the beauty of your tree began to fade away, and you were left with tree needles all over your floor. Are you wondering, "now what am I going to do with this tree?"
Did you know you can recycle your tree? First things first, before you can recycle your tree, make sure you remove all lights, tinsel, ornaments and any other items you've placed on the tree.
Make sure you remove all lights, tinsel, ornaments and any other items you've placed on the tree.
What to do with your tree?
If you aren't inclined to take the effort turn your old tree into mulch or compost, you aren't that crafty, and just want it gone (but in a good way), you can put your tree curbside for pickup or take it to a local processing or drop-off location for Christmas Trees. At the bottom of this page we have compiled a list of North Texas Communities and their Christmas tree recycling options. Please remember to follow the guidelines of your local municipality for curbside pickup.
Jump to your city for recycling information
Create Mulch or Compost
You can rent a woodchipper from your local home improvement store and turn the tree into wood chips for mulch in your flower beds. Make a post-holiday party of it and share use (and cost) of the rented chipper with your neighbors! Please be safe and wear all proper personal protection equipment.
If you have a compost pile already, cut the branches up into small pieces and add them in. If you don't have a compost pile started yet, now is the best time to start because you can use the branches from your Christmas tree as the base of your pile! Check out our composting section for more information and resources to get you started.
Get Crafty
You can use the branches or trunk of the tree as wood for an arts and crafts project. Cutting thin slices from the trunk could provide disk shapes to work from, or just seal with wood sealer and now you have unique drink coasters that remind you of the joy of Christmas year round.
What kind of crafts or uses have you come up with for your old Christmas tree? Tell us on social media @TimeToRecycle!
North Texas Tree Recycling
Please check with your local municipality regarding the locations listed below for their rules and regulations. For curbside pickup, if offered, please follow all guidelines. Like with any form of recycling, it is important to "Recycle Right" to ensure these programs are successful and continue into the future.
Allen
Residents may take natural Christmas trees to the NTMWD Custer Road Transfer Station and Wood Grinding Facility for disposal. Residents must bring their most recent water bill and a driver's license with a matching address in order to enter the facility.
NTMWD Custer Road Transfer Station and Wood Grinding Facility: 9901 Custer Road, Plano Tx
Arlington
Christmas Tree recycling will be held from December 26th through January 11th. The Arlington Landfill is located at 800 Mosier Valley Road and Collins Street about one mile north of Green Oaks Blvd., Monday through Saturday from 7:00 am until 4:30 pm, weather permitting.
Calloway's Nursery located at 4940 S. Cooper Street.
Christmas trees may be placed curbside; however, they will not be recycled. Trees taller than 6' should be cut in half.
Please call the City's Action Center at (817) 459-6777 for more information.
Bedford
Drop off your tree at 3200 Meadow Park anytime from December 26th through January 8th. There will be a designated area where residents can pull up and drop off their tree for recycling.
Cedar Hill
Christmas tree recycling collection points are at Hillside Village (305 W FM 1382) and at the Alan Sims Recreation Center (310 E Parkerville) from January 2nd through January 11th. Trees must be live, not artificial, and free of all ornaments, lights, tinsel, and other décor.
Dallas
For Christmas tree drop-off, call the Dallas Zero Waste Hotline at (214) 670-4475 for drop-off times and more information.
Bring your real tree to the McCommas Bluff Landfill or the Northwest Transfer Station through January 6 to be recycled.
Northwest Transfer Station: 9500 Harry Hines Blvd, 75220
McCommas Bluff Landfill: 5100 Youngblood Rd, 75241.
Denton
Denton has a curbside recycling tree program. Brush and tree limbs should be cut to 4 ft to 8 ft lengths and stacked into one pile with the cut end toward the street. Brush should also be at the curb by 7 a.m. on your collection day and at least four feet away from carts or other objects. Please call customer service at 940-349-8700 to schedule a brush collection at least one business day prior to your regular collection time.
Euless
To recycle your Christmas tree, drop off your live tree (with no decorations or lights) at the designated area of Midway Park from December 26 to January 9. The City will turn your tree into mulch, which it uses throughout the year to maintain City parks and medians. Residents may bring their own bag to fill with mulch for their gardens or flowers. Limit one bag per person. The Parks Department may work with residents on additional quantities if available. For more information, call 817-685-1650.
Euless Family Life Aquatic Park Parking Lot, 300 W. Midway Dr.
Duncanville
Christmas Tree Recycling is available December 29 through January 31st at the Service Center located at 330 Shady Trail. Residents may drop off their trees in the grassy area by the existing mulch pile on Shady Trail near Main Street (there will be signage to direct you to the area). For more information, contact the Service Center at 972-780-4900.
Fort Worth
Remove all tinsel, lights, decorations, tree stands, and plastic bags. Place your paper yard waste bags, bundled brush or green yard trimmings at the curb by 7 a.m. on your pickup day. Place bulky items on the curb by 7 a.m. Monday of a resident's assigned week. Items may be placed on the curb as early as 6 p.m. the Friday before the assigned week. Crews have until the following Saturday at 5 p.m. to pick up bulky items. For more information, call (817) 392-1234.
Drop off stations:
Brennan Drop-off Station, 2400 Brennan Ave.
Southeast Drop-off Station, 5150 Martin Luther King Freeway
Old Hemphill Road Drop-off Station, 6260 Old Hemphill Road
Hours: Monday to Friday: 8 a.m.-6 p.m. Saturday: 8 a.m.-5 p.m. Closed Sunday.
For more information, call (817) 392-1234.
Frisco
The City of Frisco provides curbside holiday tree recycling to its residents. Please remove any ornaments, lights, or metal supports and cut trees into sections about 4ft long and place on the curb on your regular collection day. All live trees collected will be recycled (made into compost and mulch. Flocked trees are not accepted (flocked trees are sprayed with a chemical to look like they are covered with snow). The chemical component in flocking material prevents composting of these trees. Call Frisco Environmental Services to schedule a bulk pick-up to remove your flocked tree 972-292-5900.
Drop-off location also available at the Custer Road Transfer Station (9901 Custer Road in Plano).
Grand Prairie
Trees can be recycled for free in the two weeks after December 25 at a few landfills. Artificial trees and trees sprayed with artificial snow cannot be accepted for recycling. Acceptable trees will be recycled into mulch, which is free and available at the landfill to all Grand Prairie residents. Trees can also be collected on your normal garbage collection day, but will be collected as garbage rather than recycled. Locations to recycle Christmas trees are as follows:
Charley Taylor Recreation Center parking lot, 601 E Grand Prairie Rd
Parkhill Park parking lot, 5100 Block of S. Robinson Rd
Grand Prairie Landfill, 1102 MacArthur Blvd
Haltom City
Waste Connections, the city's waste hauling and recycling contractor, is accepting trees at the Convenience Center (2120 Minnis Dr.) December 25th through January 16th. For more information call 817-222-7767.
Irving
Fresh-cut Christmas trees will be collected as a part of Irving's regular weekly brush/bulky waste pickup Dec. 26-Jan 17. For more information, call (972) 721-8059. Residents can also take Christmas trees to any of the following drop-off locations Dec.26-Jan. 17:
Cottonwood Park, 4051 N. Story Road
Hunter Ferrell Landfill, 110 E. Hunter Ferrell Road (hours are 7 a.m. to 5:30 p.m. daily; closed Dec. 24-25 and Jan. 1)
Las Colinas Service Center, 5964 Riverside Drive (southern section of the parking lot)
Southwest Park, 2800 W. Shady Grove Road
Keller
Keller residents can place their live Christmas trees curbside for collection by CWD. Trees will follow the same schedule as normal yard waste. That means trees collected on customers' first service day of the week will go to a Living Earth facility to be turned into mulch/compost, while those collected on the second service day will go to the landfill. Please be sure to remove all ornaments, tinsel, etc.
Note: There is no separate drop-off location for trees this year as there has been in the past.
Lewisville
Lewisville is providing free Christmas tree recycling to Lewisville residents from December 7, through January 15 at Lewisville Lake Park (200 Lake Park Road). Free mulch (that will be created from the collected trees) will be available to residents December 26 through January 30. Please bring a shovel and a container to transport the mulch. Mulch will be on a first come, first served basis. If you have any questions call Keep Lewisville Beautiful at 972-538-5949 or contact the Parks Department at 972-219-3550.
Keep Lewisville Beautiful Website
Mansfield
Recycle Your Live Tree To Be Mulched. Drop off Christmas trees for recycling Dec. 26 through Jan. 21, and help us make mulch to give away in the spring. There will be a self-service trailer next to the garden center where trees may be unloaded. *Flocked and artificial trees cannot be mulched and will not be accepted. Free for Mansfield residents.
McKinney
You can schedule a bulk pickup of live Christmas Trees without ornaments or decorations by calling 469-452-8000.
Grapevine
Christmas Trees can be put out for collection on Clean Brush & Yard Waste Wednesdays (1st and 3rd Wednesdays of each month). Please contact the City's Environmental Services Division (817) 410-3330 for more information.
North Richland Hills
December 26 – January 3 Christmas trees can be dropped off at: Green Valley Park at 7701 Smithfield Road,
or Dan Echols Center at 6801 Glenview Drive.
Mulch from the recycled trees will be available for residents to pick up at the two drop-off locations January 4 through 17, while supplies last. Please bring your own container and shovel to load the mulch.
For more information, contact Neighborhood Services Environmental Resources Division online or call (817) 427-6650.
Flocked trees are not accepted for mulching but can placed at your curb for regular trash collection.
Plano
From December 26th through January 3rd, drop off stripped, clean trees at one of the following locations:
Jack Carter Park - 2601 Pleasant Valley, Plano 75023 (south lot off Pleasant Valley)
Old Shepard Place Park - 1301 Winding Hollow Lane, Plano 75093 (northeast corner of Shepton lot off Plano Parkway)
Russell Creek Park - 3500 McDermott Road, Plano 75025 (northeast lot off McDermott)
Schell Park - 2305 Laurel Lane, Plano 75074 (southeast lot off Laurel)
Call (972) 769-4150 for more information.
Richardson
In partnership with the City, Texas Pure Products takes Christmas trees and turns them into mulch, which Richardson residents can then purchase at a discounted rate. From December 26 – February 1, residents can drop off their tree at the Municipal Service Center (1260 Columbia Dr.) or call 972-744-4111 to request a Brush and Bulky Item Collection.
Southlake
You can drop off your bare tree at Bicentennial Park (450 West Southlake Boulevard) December 11, 2020 - January 15, 2021. You can then pick up the mulch created from these trees at the same location on January 18, 2021 - While supplies last.
Want to know more about Recycling? Check out "Know What To Throw" and take the Time To Recycle Quiz.