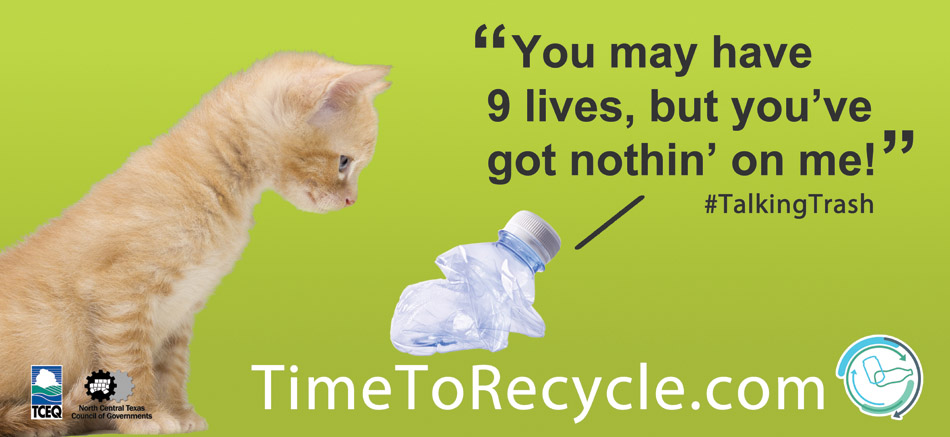 End the Trash Talk!
Why are these recyclables talking trash? Despite the leaps and bounds that recycling has made in regards to its acceptance and the effort put into passing on information regarding what material can be recycled and the benefits, staple recycling items (paper, plastics, aluminum, and cardboard) are still ending up in the trash.
It's time to stop and think about what you're really putting in the trash.
The Problem
The Environmental Protection Agency (EPA) cites that Americans throw away about 28 billion bottles and jars every year. The Container Recycling Institute (CRI) estimates that the 36 billion aluminum cans landfilled last year had a scrap value of more than $600 million. Over the past twenty years we've scrapped aluminum cans worth over $12 billion on today's market. Some day we may be mining our landfills for resources we've buried.
How can we prevent this from happening? By recycling all that we can!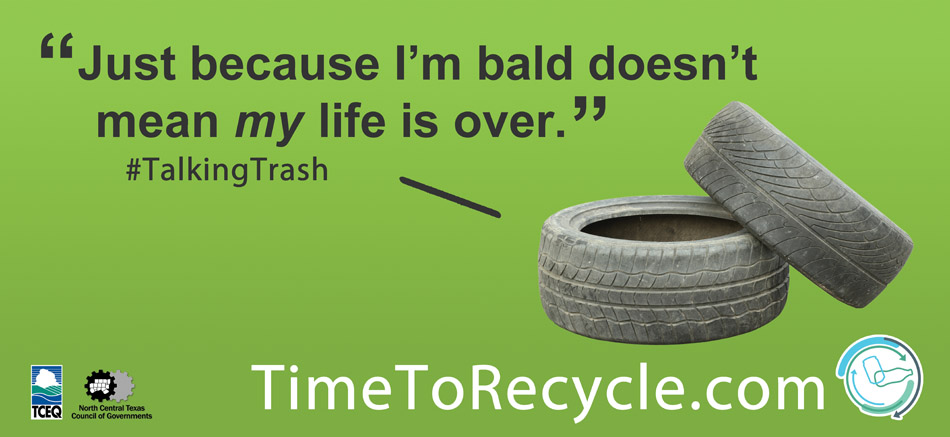 Why Recycle?
Recycling possesses many benefits, which include:
Reducing the amount of waste sent to landfills and incinerators
Conserving natural resources such as timber, water, and minerals
Preventing pollution by reducing the need to collect new raw materials
Saving energy
Reducing greenhouse gas emissions that contribute to global climate change
Helping sustain the environment for future generations
Creating new well-paying jobs in the recycling and manufacturing industries in the United States
The North Central Texas regional residential recycling rate increased from 17.1% in 2004-2005 to 19% in 2009-2010, and has surely only risen since then(*1). The regional campaign is an effort to encourage the current momentum, add additional residents and households to the current numbers, and educate residents about recycling resources and benefits.
Where Can I Recycle?
Many cities in the Dallas/Fort Worth Area offer curbside recycling pick-up along with the trash pick-up. However if you live in an apartment or in a city that does not offer curbside recycling pick-up, you can use our Recycling Facility Locater tool to find a recycling location near you. You can also find out what is recyclable and how to recycle these items under our What is Recyclable section.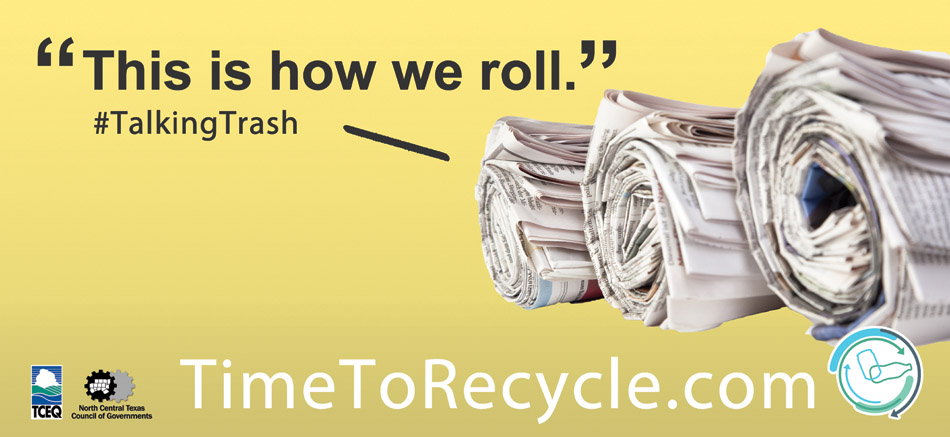 About the 2015 "Talking Trash" Campaign
Sixteen counties (Collin, Dallas, Denton, Ellis, Erath, Hood, Hunt, Johnson, Kaufman, Navarro, Palo Pinto, Parker, Rockwall, Somervell, Tarrant and Wise) have partnered with the North Central Texas Council of Governments, the Resource Conservation Council, and the Texas Commission on Environmental Quality to motivate residents to increase their recycling. 

Contact your city to find out about recycling and waste reduction services offered and how you can participate.
Keep an eye out around the Dallas and Fort Worth areas for Talking Trash and join the conversation using #TalkingTrash or #TrashTalk.
_____________________
*1 Numbers from an independently conducted recycling study funded through a solid waste management grant provided by the Texas Commission on Environmental Quality through the North Central Texas Council of Governments. Access the full Regional Recycling Rate Update report here.